Here we go again:
Yardley nkaheetdky
Mother Facing Charges After Leaving Infant In Car

LOWER MAKEFIELD, Pa. –

A Yardley Mother is facing charges, after police say she left her 10 week old daughter unattended in her car while shopping at a Lower Makefield drugstore.

Police say 47-year-old Cynthia Kelly left the baby in the car with the motor running shortly after 2pm on May 31st.

The store's surveillance cameras showed that the child was left in the car for about four minutes before the baby was spotted in its car seat by a man in the parking lot.

The man walked into the store searching for the child's parent, and told police Kelly came forward saying the child was hers, and then continued to wait in line to pay for her items, prompting the man the contact police.

Police headed to Kelly's home to check on the welfare of the child, where Kelly admitted to leaving the child in the car, after Googling to see if it was in fact legal for her to do so.

After being examined by paramedics, it was determined the baby did not require emergency treatment.

Kelly is now facing charges of endangering the welfare of children, and leaving a child unattended in a vehicle.
So, readers, this is my new contention: We have lost the ability to distinguish between a nearly non-existent threat (a baby in the car for four minutes) and a huge threat (a baby left in the car for four hours). We act as if there is literally no difference, with cops called and paramedics summoned.
This is the same myopia that recently got a boy suspended for bringing a toy gun to school and even after turning it IN!  (His mom had accidentally given him a backpack with the toy in it. When he saw it, he immediately gave it to his teacher.) That's as responsible as a 7-year-old — or anyone — could be, but the school reacted as if he'd brandished a loaded Uzi.
And this is the same myopia that has us putting 18-year-olds on the sex offender list for consensual relations with their 15-year-old girlfriends. Â We punish them as if they're no different from a grown man who rapes children.
Just remember that when you look at what seems to be a society gone bonkers that what's really happened is this: We refuse to believe there's any gray area between black and white. Everything that is one half-millimeter away from perfect — or even IS perfect, but reminds us of something that isn't — is treated as DEMONIC. Hence, our state of perpetual overreaction.
We are either stupid or simply starved for drama. – L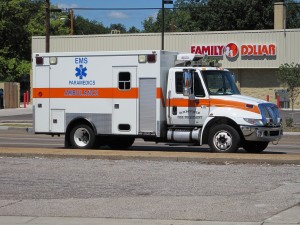 Paramedics to the non-rescue!