CRIME IS LOWER TODAY THAN WHEN MOST PARENTS WERE GROWING UP
Crime is back to the level it was when gas cost 29 cents a gallon, says the Christian Science Monitor.
Crime is back to the level it was before color TV, says The Week magazine.
2013 gun crime rate back to level of early 1960s, says Pew Study.
2014 violent crime rate down another4.4%, says USA Today.
Amazing, simple chart of U.S. homicide rate per 100,000 people, Â from 1950 (4.6) to 1980 (10.2) to till 2014 (4.5).
Pedestrian, bicyclist and car deaths ALSO at lowest rate in decades, says The Council on Foreign Relations.
And here's an overall report on crime over the last 25 years, which includes the graph below: Brennan Center for Justice at NYU Law School
Some U.S. stats:
All violent crime: Down  48% 1993 – 2012
All homicides: Down 50.5% 1993-2012
Forcible rape:Â Down 34.5% 1993 – 2012
Source:Â FBI Uniform Crime Reports.
*
 Violence Against Children 2-17 is going down too (and not just because we are helicoptering. Crime is down grown men and women  too, and we don't helicopter them):
Physical Assault: down 33% 2003 – 2011
Rape, attempted or completed:Â down 43% 2003 – 2011
Source:Â Â University of New Hampshire Crimes Against Children Research Center)
*
OTHER COUNTRIES:
CANADA: Crime rate back to level of 1972 and continuing to fall.
BRITAIN: Murder rate lowest since 1978.
AUSTRALIA: Since a peak of 344 murder victims in 1999, the number has continued to decline, to 244 victims in 2011.
*
Crime is down but PERCEPTION of crime is up — interesting piece.
For many more links to articles on why crime is declining, as well as to FBI stats, Â click here.
And for a little historical perspective, here's the homicide rate from 1300 to the Present.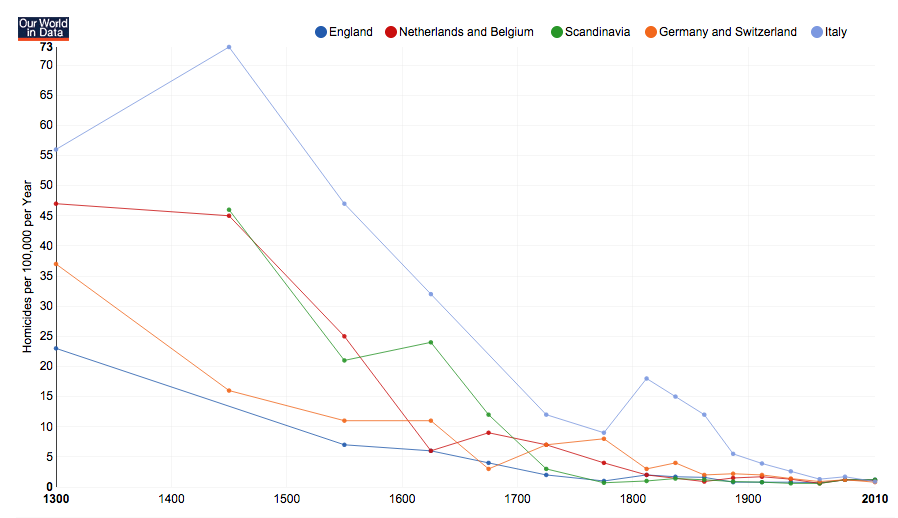 source:Â http://ourworldindata.org/data/violence-rights/homicides/
*
And, from Slate, Dec., 2014: The World is Not Falling Apart
*
And as for whether it is dangerous to let a child wait in the car during an errand, this piece explains how more kids die in parking lots than waiting in cars.
*
AND NOW — A WHOLE LOT OF OTHER STATS (BUT LESS WELL ORGANIZED):Â 
*
Some Older Info From Crimes Against Children Research Center (based on U.S. Dept. of Justice numbers):
Crime has been going down since the 1990s:
All U.S. homicides: Down 40% 1992 -2005.
Juvenile homicide: Down 36% 1993 – 2005 (kids under age 14)
Juvenile homicide: Down 60% 1993 – 2005 (age 14 – 17)
Forcible rape: Down 28% 1992 – 2006
Sex Abuse Substantiations of Children, 1990 – 2005: Down 51%
Physical Abuse Substantiations of Children, 1990 – 2005: Down 46%
Juvenile Sex victimization trends, 1993 – 2003: Down 79%
*
FBI Chart of Crime Rate, 1991-2010 (consistently going down):
http://www.fbi.gov/about-us/cjis/ucr/crime-in-the-u.s/2010/crime-in-the-u.s.-2010/tables/10tbl01.xls
*
Abductions in perspective:
Number of children age 2 – 14 killed in car accidents, as passengers: 1300
Number of children killed each year by their family members and acquaintances: About 1000
Number of children abducted in "stereotypical kidnappings" (kidnapped by a stranger for ransom or for sexual purposes and/or transported away) in 1999, the most recent year for which we have statistics: 115.
Number of children killed by their abductor: About 50.
Murders of children by abductors constitute less than one half of 1% of all murders in America.
*
Stranger Danger?
Of all children under age 5 murdered from 1976-2005 —
31% were killed by fathers
29% were killed by mothers
23% were killed by male acquaintances
7% were killed by other relatives
3% were killed by strangers
Moral: Your safest bet is to leave your child with a stranger.
SOURCE: http://bjs.ojp.usdoj.gov/content/homicide/children.cfm
and
http://www.bjs.gov/content/pub/pdf/htus8008.pdf
*
Missing Children?
When you hear about all the "missing children" remember: There is approximately one child abduction murder for every 10,000 reports of a missing child. (Source: Polly Klaas Foundation.)
Put it another way: The Department of Justice reports that of the 800,000 children reported "missing" in the United States each year, 115 are the result of "stereotypical kidnapping" — a stranger snatching the child. About 90 percent of abductees return home within 24 hours and the vast majority are teenage runaways.
For more statistics and an analysis of the number of children reported missing versus the number of children actually abducted by strangers, please see the Second National Incidence Studies of Missing, Abducted, Runaway and Thrownaway Children conducted by the Department of Juvenile Justice & Deliquency Prevention: http://www.ncjrs.gov/html/ojjdp/nismart/03/ns5.html
*
Mass shootings? 
Connecticut Law Review, 2014: "Â First, we bring empirical clarity to the debate over mass shootings, and show that contrary to popular opinion, they are fairly rare, and are not occurring more frequently."
*
Other interesting pieces:
Child Abduction by a Stranger Very Rare – Discovery.com, 2013.
And all violent crime down another 4% in 2011, 
A good graphic of the 2011 decline in crime.
The Economist on the incredibly low crime rate (especially in New York City)Â 
A great comparison chart about Crimes on TV News vs. Crimes in Real Life. NOTE: 99.5% of Americans will never experience ANY violent crime.
*
SO… WHY ARE WE SO WORRIED ABOUT CRIME?
CRIME DOWN, PERCEPTION OF CRIME UP:
"Take murder. The murder rate rose and fell over the 20th century, climbing to an early peak in 1933, then dropping sharply and staying low through the Depression, World War II, and into the 1960s. It rose to a record level in 1974, broke that record in 1980, and stayed prodigiously bloody through the early '90s. This is when Bill Clinton boosted funding for local police forces, and police began experimenting with radical new approaches to policing, such as those employed in the so-called Boston Miracle. In 1994, the murder rate started to fall, and it's been falling ever since. Rape, robbery, and aggravated assault have dropped along with it. Last year was no exception. According to preliminary FBI data, the murder rate dropped 10 percent from 2008 to 2009, robbery fell 6.5 percent, aggravated assault fell 3.2 percent, auto theft was down a whopping 18.7 percent.
But as the crime rate has dropped, Americans have missed the news. The number of people who told Gallup that crime is getting worse climbed to 74 percent last year, a figure higher than any year since the carnage of the early '90s."
From this op-ed by Joe Keohane: http://www.dallasnews.com/opinion/sunday-commentary/20100326-Joe-Keohane-The-crime-wave-762.ece