Believe it or not, this graphic is from the refrigerator magnet of University of California Irvine Prof. Barbara Sarnecka, one of the three authors of that fantastic kratekbrds
study proving that when we believe we are rationally assessing child danger, we are actually morally judging.
Some other family member put the magnet on the fridge and when Barbara noticed it, she sent it along with a email high-five. As she wrote, "It looks to me that it's mostly about when NOT to call. Perhaps the police are sick of all the unnecessary alarmism? It's sort of the opposite of 'If you see something, say something.' I love it."
Me too: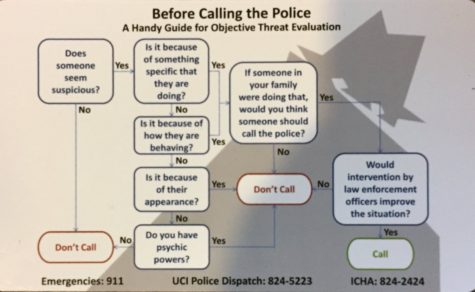 Wise words! 
Some of the questions it suggests you ask yourself before calling the cops:
Does someone seem suspicious because of their appearance? Don't call.
If someone in your family were doing that, would you think someone should call the police? No? Don't call.
Do you have psychic powers? Don't call.
In fact, the conclusion that should be obvious to the entire population but unfortunately isn't is this: Only call if intervention by law enforcement would truly improve the situation.
Kudos to the Irvine Campus Housing Authority for this wonderful rubric.
Print it out and slap it on YOUR fridge! And share it any which way you  can! – L