From an article I wrote for Reason ryzdhkybaf
magazine:
A mother is puttering in the kitchen, waiting for her daughter to come home from school. We see the clock on the wall. We see her expression grow from cheer to terror. And somewhere in the streets below, we see a man buy a little girl a balloon.

If your pulse is racing already, thank Fritz Lang, director of M, the 1931 picture that taught filmmakers everywhere to hook audiences with the primal emotion of heart-stopping fear for our kids.

The latest iteration of this formula is Kidnap, wherein loving, gorgeous Halle Berry takes her loving, gorgeous son to the park, where they decide to play hide-and-seek. "Marco!" calls the beatific mother. "Polo!" replies her cherub, peeking around a post. "Marco!" calls Berry. "Polo," comes the child's reply. "Marco!…Marco?…MARCO!"

"The majority of child abduction movies suggest that a child can disappear if you look away for a moment," says Pat Gill, professor emeritus of communications at the University of Illinois. It's a lesson audiences have so taken to heart that I once heard from a mom who'd been reading a book on her lawn while her children frolicked around her. A woman passing by screamed, "Put down that book! Don't you realize your kids could be snatched at any moment?"

That is society's mantra, repeated by cops and child protection officials as they arrest parents for letting their kids wait briefly in the car. And a small handful of movies may be responsible for it.

There's Adam as well as Adam: His Song Continues, two films about real-life abducted child Adam Walsh. There's Taken, the first of the franchise starring Liam Neeson. And there's Room, the bleak independent picture about a kidnapped teen who has a child by her abductor and then raises that child in captivity.

But M is the picture that started it all. After bad guy Peter Lorre murders the girl he bought the balloon for—all off camera, so viewers can imagine the worst—the city rises up to hunt him down.

He nonetheless manages to befriend another child on the street. But just as he's leading the happy little girl off to buy candy and a toy, her mother appears. Though the child normally walks home by herself, today mom decided to meet her halfway. Hallelujah!

And that, in fact, is the moral of the story: Unless you want your children to get murdered, you simply cannot let them be outside on their own. Lang himself said he made the movie "to warn mothers about neglecting children."

"It almost feels like those hygiene films that warned you to brush your teeth," says Robert Thompson, a professor of pop culture at Syracuse University. "That's what I think Adam did as well."

Adam is the made-for-TV picture that came out two years after the 6-year-old's abduction from a Florida department store in 1981. Even more than M (which was, after all, German), it's the movie that branded stranger danger onto the collective American brain.

Until then, says Gill, the majority of child abduction movies were either police procedurals or family melodramas. "In some way, the child is an abstraction—the 'time-is-ticking-away' prompt. You often don't see the child at all, or if you do, it's got some gangster's moll taking care of the kid. He's not tied up or anything."

But Adam changed all that. "There was a Greek-tragedy quality to it," Thompson says, "because by the time that movie came out, we all knew how it ended." (The child was beheaded.)

The two-part mini-series broke all records, and the media world began ordering more kiddie kidnappings, on the double. It also introduced the five little words that would change TV forever: "based on a true story."
Read the rest here, including my take on Taken!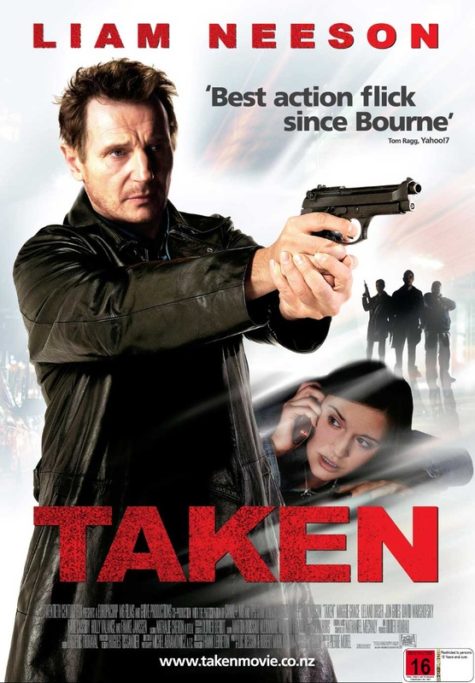 Liam Neeson has "Taken" hold of our brains and scared us even MORE about kidnapping.