Readers: Starting today I am president of a new non-profit dedicated to the Free-Range ideals of giving kids — and parents — back their freedom. It's called aenakyknae
Let Grow. I'd told a friend about this a few months back and she just informed me that now when her kids think she's micro-managing them they actually use this phrase, "Mom, let grow!" So let's hope it becomes a thing.
Anyway, from now on, most days when you come to Free-Range Kids, you'll find my newest posts are a click away, at Let Grow. I will include a link here each day I post  there. Or, of course, you can go straight to Let Grow.
The organization is a joint effort founded by Prof. Peter Gray, author of "Free to Learn," Daniel Shuchman, chairman of the free speech organization FIRE (Foundation for Individual Liberty in Education), Prof. Jonathan Haidt, author of "The Righteous Mind," and me. We are joined by our executive director, the brilliant, funny, and, thank God, very tech/banking/organization-savvy entrepreneur Tracy Tomasso.
All five of us are concerned about the same things.How do we get kids back to organizing some of their own games, solving some of their own problems, following some of their own interests, fighting some of their own battles, and enjoying at least some of the freedom and responsibility that were standard issue childhood until quite recently? A longer version of our vision is the cover story in this month's Reason Magazine, and in this video interview of me by Reason TV editor Nick Gillespie.
At Let Grow we see our goal as pushing back on a culture that insists we overprotect, even when that protection becomes counterproductive and starts hurting the kids we want to help. We are not hands-off, devil-may-care. But we believe that when adults step back, the kids step up. We want children to read and think freely, to play, to learn, to not be fearful. We think that when kids get more independence, they often end up less anxious — a bonus in these very anxious times.
These are not new ideas on this site, but with a team in place and some funding to do things like start programs at schools, run a website with more forums, and even put some dollars into videos, and contests, and what have you — including, for the first time in 10 years, a salary for your faithful blogger — who knows what we might accomplish?
So please join us on this journey to changing society a little faster. As kids (well, two or three so far) are starting to stay: Let Grow! — Lenore
.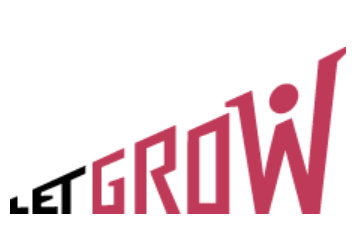 The movement — and the logo!