Dad htftyyatsz
Shawn Dawson, of Albany, OR, came up with the perfect present for his littlest girl:
Dear Free-Range Kids: My daughter had her birthday last weekend, and in the weeks leading up to it she has expressed an interest in both whittling and archery. Â Well figuring that at age 8 it was time she learned a bit more about safely handling a knife, one present I purchased for her was a very small, pink, swiss army knife. Â It's quite small, but will serve the purpose of teaching her how a knife is a tool (it also has tweezers, scissors, nail file, and a screwdriver) that should be used properly and taken care of. Â Any tool can hurt, if one misuses it. Â We have talked about how to keep the blade clean, wiping it with a rag from the blunt side of the knife, using oil not water to clean it, and so on.
BTW, while this does not show proportions well, the knife is here: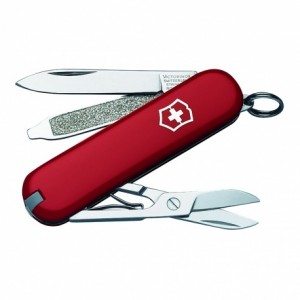 Works on apron strings, too!
For the past week, she has been quite useful around the house, ready to help cut the plastic off of boxes and the like. Â  Â Playing outside one day, I noticed her cutting the top off a pop can, so I talked to her about that. Â This is not proper use because it will ruin the blade. Â I set her up with a bar of soap, and let her practice using the knife on that. Â We talked about cutting away from you, not towards you. Â But all the talk does not help unless one practices.
In short, a week later, we have had no injuries and she has learned a bit about the knife as a tool. Â  I think it helped my wife not to worry as the blade really is quite small, and while there may be a slip at some time, it won't do any major harm.
Now the interesting part is the reaction of my acquaintances, several of whom have seemed genuinely *shocked* that I would give a pocket knife to an 8 year old 2nd grade girl as a birthday present. Â It appears that in todays hyper-fear climate, the knife is a step below a handgun, and should not be handled by a grade school child. Â I have friends with children in the 4th and 5th grade who said they certainly would not allow their children to "play with knives"! Â Sheesh.
I am 50. Â This is my 4th daughter (ranging in age from 8 to 27 now). Â I was born in 1963, and when I was a child in the early '70s, most of my friends had pocket knifes — frequently in their pockets at school. Â I find the state of fear that has become 'normal' in today's society to be depressing.
In any case, I am looking for archery classes next. – S.D.