Stephan Pastis, forgive me for reprinting this here, but we are so on your side! And you are on ours! Here's the link to Stephan's reirayaran
Facebook page, and his website, and — heck — his Twitter feed. And his road tour calendar! And for those who can't read the strip because it's too small on your phone, the script is below!
.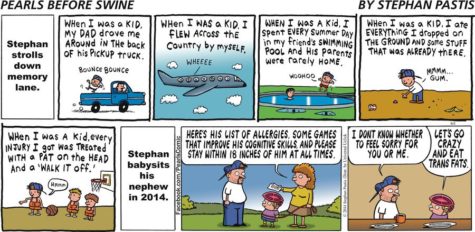 STEPHAN STROLLS DOWN MEMORY LANE:

When I was a kid, my dad drove me around in the back of his pickup truck.

When I was a kid I flew across the country by myself.

When I was a kid I spent every summer day in my friend's swimming pool and his parents were rarely home.*

When I was a kid I ate everything I dropped on the ground and some stuff that was already there.

When I was a kid, every injury I got was treated with a pat on the head and a 'Walk it off.'

STEPHAN BABYSITS HIS NEPHEW IN 2012.

(Stephan's sister or sister-in-law hands him a piece of paper): Here's his list of allergies, some games that improve his cognitive skills. And please stay within 18 inches of him at all times.

Stephan to nephew: I don't know whether to feel sorry for you or me.

Nephew: Let's go crazy and eat trans fats.
*The asterisk is mine, because swimming without supervision is yada, yada, yada.
Now let's just bask in the genius. – L.