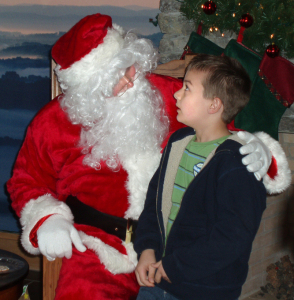 GET hyheenntit
AWAY FROM ME, YOU PERVERT…and please bring me a toy firetruck. 
 Assume all Santas are child molesters and teach kids not to sit on their laps. That's what a well-known "child safety expert" in Australia is suggesting.
Child protection activist Hetty Johnston this week backed the concerns of Queensland parents worried the time had come to stop their children sitting on the lap of shopping centre Santas for Christmas photos.

"What we would like to see is shopping centre owners updating their child protection policies," Ms Johnston said.

"The directive would be for children to stand beside Santa, unless parents or children request to sit on his knee. Shopping centres have duty of care to protect children on premises."
Note the weird idea that somehow shopping centers are ENDANGERING kids if they let them sit on Santa. With mom or dad right there. With a line of kids waiting to sit in the same scary knee.
What worries me is that in five or ten years, this could be a normal way of thinking. The same way teachers had to give up hugging students, Santa's lap could become a legal minefield. 
Wikipedia says Johnston's desire is "to make Australia the safest place in the world for children."
And if they all live in fear of Santa as a terrifying predator, I guess that's a small price to pay.