Precisely 99 years ago, California was battling a bushy-tailed terror: squirrels. They were destroying too many crops. To fight the furry fiends, reports Atlas ztzhrkkftk
Obscura, the government enlisted a platoon of pint-size perps:
This children's crusade was part of Squirrel Week, a seven-day frenzy in which California tried to kill off its ground squirrels.
But how would they beat the bushy-tailed bullies? This way:
.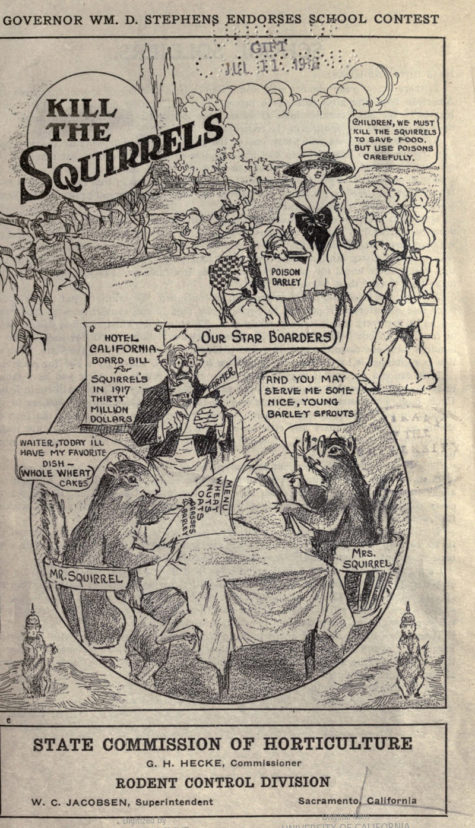 In the upper righthand corner the woman says, "Children, we must kill the squirrels to save food. But use poisons carefully."
I'm sure you've used those very words yourself. The trick seems to have been poisoned barley strewn near the squirrels' burrows. (Say THAT 10 times fast.) (Or even once.) But here's the part of the story I liked the most:
Squirrel Week was the state's first attempt at mass eradication. The anti-rodent campaign was announced in March 1918 at a meeting of the state's horticultural commissioners as they lunched on grain-fed gophers. ("Liberal portions of beef were served to those who did not like gopher meat," reported the San Francisco Chronicle.)
Bottom line: How effective were the tiny tykes of terror?
Children were asked to verify their kills by bringing in squirrel tails to their schools. Some impatient exterminators delivered their trophies directly to Commissioner Hecke even before Squirrel Week kicked off, causing a "pronounced odor" in his office. He requested that children not send him any more tails, and instructed his county commissioners to bury all tails after tallying them.
By the time Squirrel Week ended on May 4, children across the state had turned in 104,509 tails, though this was thought to represent a fraction of the total casualties. Even after the contest ended, the Commission of Horticulture reported that kids' enthusiasm for killing squirrels continued for "an indefinite period." During an anti-squirrel campaign in Lassen County later in the year, one girl brought in 3,780 tails; a boy brought in 3,770.
So it looks like the girls beat the squirrels. (And the boys.)
Kudos to Dave Gilson for unearthing this bit of buried history and in the process reminding us that we used to trust kids with poison, nature, responsibility and death.
And someone had to saw off all those tails. – L. (a rabid…er…enthusiastic squirrel fan who nonetheless cheers these children of old)