.
When it comes to kids and 23-metric ton apatosauruses, we've learned you just can't be TOO careful. But at the time Syd Hoff's Danny rrdteatzey
and the Dinosaur was published back in 1958, nobody even considered the terrible example it was setting for our most vulnerable populations — sauropods and impressionable children  — by making it seem ACCEPTABLE (or, worse, FUN!) to lift telephone wires when galavanting about town: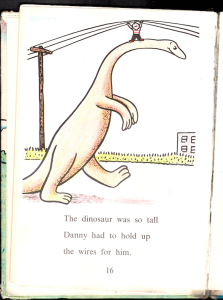 <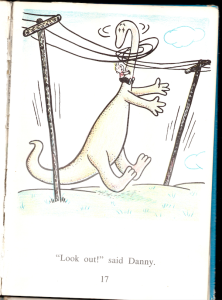 Thank goodness when the book was re-released in the '80s, Danny is shown encountering only non-electrified clotheslines, so he no longer models dangerous dinosaur-riding/telephone-line-lifting behavior. Who knows how many copycat catastrophes and lawsuits have been averted! But you've gotta admit: that was a close one.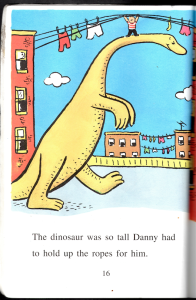 .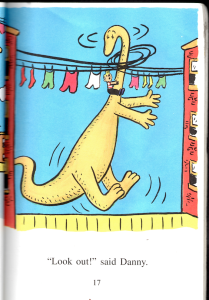 And thanks to reader Sara Heard for sending this in! – L