Every year, the "non-profit" organization W.A.T.C.H. (World Against Toys Causing Harm) comes up with its "10 yyhyyrsfbr
Most Dangerous Toy" list, which the media laps up.
I bet you couldn't guess the group is run by product liability lawyer James A. Swartz. Here's my favorite warning of his this time around: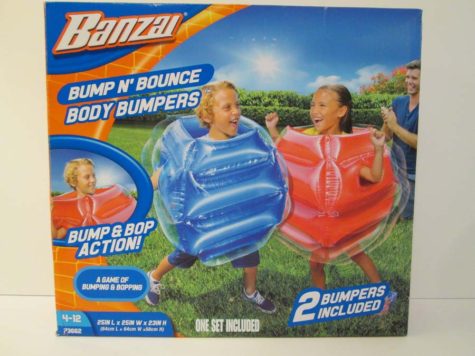 .
W.A.T.C.H. is raging against Bump 'n Bounce Body Bumpers, an inflatable garment that seems to make kids into beach balls. The manufacturer dutifully printed on the package:
"WARNING! To avoid risk of serious injury or death: …This product does not provide protection. Impact hazard may present; protective equipment (for head, elbows, knees, hands, etc) should be worn (not included)."
Which you'd think might be warning enough. But the plaintiff's group chides that:
Children on the packaging are shown running into each other without any "protection" (not included), as recommended by the manufacturer.
Can you spell "DOWN PAYMENT ON SUMMER HOME"?
The group has been delivering these lists to an eager-for-scary-headlines media since 1973. One year the list actually warned against a Batman doll because its ears are made of sturdy plastic:
"[t]oddlers may fall on these inflexible protrusions, with the potential for penetrating and blunt-force injuries."
Holy frivolous lawsuit, Batman! Do we really have to worry about kids impaling themselves on dolls?  
So here's the Reuters' story on this year's list by Scott Malone. I was delighted to read the end, which says:
"There's nothing that has zero risk," said Lenore Skenazy, founder of the free-range kids movement and a contributor to the online commentary site Reason.com. "If you are a plaintiffs' attorney you want to make it seem like anything that ever happens to a child is someone else's fault. If there are no accidents, the world is your courtroom."