Folks rnsddfkdrs
— Something to ponder on a Sunday:
.
Dear Free-Range Kids: As a Free-Range parent living in England, I look to classic children's literature for inspiration and confidence about giving my sons the freedom to be children, exploring and having adventures on their own.  I thought I would pass along a suggestion to other Free-Range parents and hope to get new ideas in return.  The 
Swallows and Amazons
 books, by Arthur
Ransome
, were favorites of mine as a child. Â Written in the early 1930s, the language is dated in places, but the children seem surprisingly modern and I bet today's kids would love them, too (my sons are still too young). Â I re-read the series this summer, this time paying more attention to the wise adults as role models! Â The series is appropriate for ages 8+ (but I read them as a teen).
What books do other free-range parents and their kids enjoy?
Robin Fawcett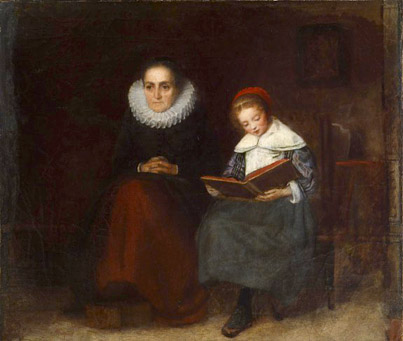 This kid does not look particularly Free-Range, but she IS copyright-free. (Painting by Richard Caton Woodville, who's great. Just discovered him!)