When drrnznkssk
you live in a world filled with excess laws and cruel, capricious or hamstrung enforcers, you can't judge people by their felonies anymore:
Dear Lenore: I thought of you tonight. We are interviewing a nanny and she disclosed to us that she has a record — a felony endangerment to a child. The reason? Her child was 10 and sick but their schedules did not work for them to get him, so he stayed home from school and she told the neighbor that he was there at the house by himself. She couldn't get back to him for another half hour. Oh, and he was 10!
Then the school called and her son tried to convince them that his mother was in the shower, but they didn't buy it and called the police (!!!) who then visited the home and found him alone. They had to call Children & Family Services and from there she ended up getting charged.
We told her that this is not a negative to us and actually is a positive because she trusted her son to be able to stay at home. It's everyone else that did not trust a child that should certainly be capable of handling a half hour at home by himself when he is sick. My Russian husband told her when he was 7 or 8 in Moscow, he was allowed to walk around by himself with none of this American crazy, and he was much younger than 10.
Crazy, crazy world.
Lenore here: I heard such a strikingly similar story this weekend of another almost-age-10 boy who was home with his 8-year-old sister for a few hours on a school half-day. When the police were alerted to his case, too, his parents (both teachers) were investigated for abuse and neglect. Had the authorities decided to play hardball, the parents could have been charged and perhaps found guilty. After all, it's true they were not there.
 This would have spelled the end of their teaching careers. As it was, they were on pins and needles for several months wondering if their world was about to implode thanks to them knowing and trusting their responsible kids for a few hours, once.
 Kudos to this letter writer for having the courage of her convictions to hire the sitter she believes in.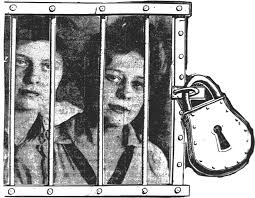 Would you hire a nanny with a felony?