So it has only taken me about three decades to finally see itekskshrb
"Stand By Me." And now, like every convert to everything, ever, I want everyone to watch it.
The four 7th grade boys off in search of a dead body (knowing this doesn't spoil the movie at all) embody the kind of Free-Range childhood many of us think we remember, even if we lived in the 'burbs and the closest we got to death was watching Goldie swirl down the toilet. But what those boys had, besides an adventure, was time on their own. Time to be silly, scared, stupid (the characters were all three), which meant they also had time to be bewildered, bonded and brave.
Beyond that — and this gets slightly into spoiler territory — the reason the movie resonates on an even deeper Free-Range frequency is because of its underlying theme: The randomness of death.
Okay, everyone who hasn't seen the movie — or read the "The Body," by Stephen King, that it was based on  —  click onto another page NOW. Because (those of you still here), when you think of all three deaths — boy in the woods, brother,  lawyer — they were all horrific and unpredictable. So the idea that you can keep your loved ones completely safe, that modern day societal death grip,  holds zero water in the movie. For gosh sake, the main character's last name is Lachance.
The boys themselves come very close — twice — to the same death suffered by the boy in the woods. They come out not only alive, but stronger. How do they all that growing?
Time on their own.
The movie shows that sometimes this can go sour — the thuggish older brothers embody that, as does the dead boy himself.  But it celebrates the upside  — confidence,  maturity —  for four very different types of kids.
We think, today, our job is to watch our kids ALL THE TIME, physically, electronically, or by putting them in a program. Â Our highest priority is to keep them safe by keeping them supervised. We see giving them time on their own as a risk.
Rather than a right. -Â Â L.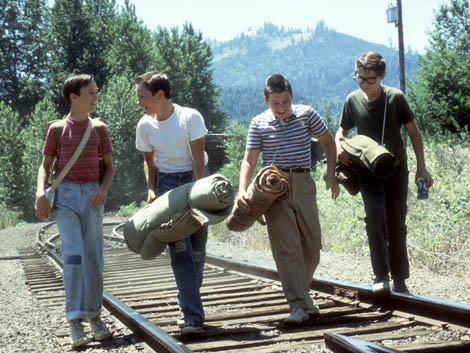 This Free-Range movie isn't just about adventure.