.
We stkndzreyz
live in the information age, which means living in the excess information age. And as most of us have come to realize, almost anything can be deemed "bad" for kids by someone somewhere. My favorite example comes from the Julie Gunlock book, "From Cupcakes to Chemicals," where she writes about listening to the news one night and hearing how dangerous it was for kids to drink from the garden hose. As if this is their sole source of liquid for 18 years.
Now here's a new screed on the topic from fed-up mom Sara Kallies in the Huffington Post, which she wrote on her vacation:
…The night before we left I read an article about a study that had been done about the worst types of sunscreen to use on children and adults. Sure enough, the stuff I just bought a while back was number one and number two. Of course. Of course it is. Do I throw it out and waste the $30, which is no small sum for us? Then go out and buy the good stuff, the lotion made by tiny fairy angels who infuse it with love and eternal life, for the low low price of my left ovary? And, by the by, it's only available in California, because that's where the fairy angels live. Or do I go ahead and lather my children up in this toxic death cream because I obviously, according to this article, don't care about them?
I am tired, people. And it's not just because my husband is working a lot. Or because I have twin toddlers that only function at 0% or 120%. They live on what I like to call, Captain Me Planet. There is zero visibility and they are flying at 100 mph anyways. No big deal. I got this.
Isn't it horrifying that a mom who is simply struggling with the latest worst-first parenting article has to even mention CPS? Why should any decent parent even have this worry on their radar?
Point is: Parents are so wracked by the social pressure to be perfect, and the advice they get about how to be perfect, and now the fear that they will be turned in for not being perfect, that they feel overwhelmed:
I am just sick and tired of all the rules. Rules about food. Rules about hygiene. Rules about clothing. Rules about schooling/education. Rules about development. Rules about medication. Rules about sleep methods/co-sleeping. Rules about playtime. Rules about friends. Rules about car seats. Rules about breastfeeding. Rules about child-wearing. Rules about television. Rules about the rules.
A real vacation would be a vacation from all the shoulds, best-practices, hoops and hovering demands that society keeps throwing at moms. That's what I wish for Sarah Kallies…and all of us. – L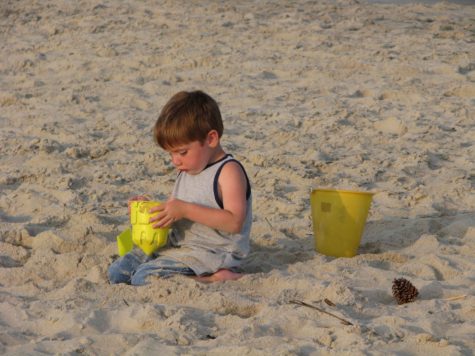 Now that I"m covered in million dollar sunscreen, can I eat this bucket of sand? 
.