Parents at North Farmington High School in Michigan want the school to halt dsnbyayzba
production of "Carrie" as this year's musical, reports Aileen Wingblad in the Detroit Free Press. They say it is disturbing and insensitive. My favorite complaint from a parent at the Board of Ed meeting was this:
Lyrics refer to sex, alcohol, marijuana and violence, she noted, which "is making our job as worried parents even harder as we try to keep our children physically and emotionally safe. These lyrics throw all our efforts back in our faces."
I love that she actually refers to her cohort as parents who have a job to do: worry! In this case, they are worried that a musical is somehow powerful enough to make children emotionally and even PHYSICALLY unsafe. …Does she think Carrie has REAL telekinetic powers?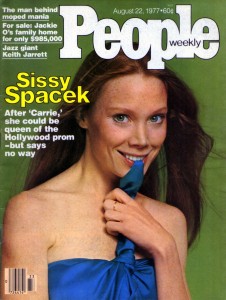 Abandon hope, all ye who watch the musical based on the movie I was in!
But, as a lover of musicals —  and I must add, the lyricist of one that played Off Broadway, back in the day — I must admit part of me is thrilled that anyone would ascribe that much life-changing power to lyrics!
Meantime, here's a comment on the Detroit Free Press piece I found spot on and inspiring:
I have known [North Farmington High School's theatrical director] Dean Cobb for over 25 years. I was fortunate to be the first person at NFHS to be in 4 musicals at North, having been a freshman when the musical theatre program began in 1990 (I played The Wizard in the Wizard of Oz). Dean not only taught me to love theatre, he taught me to believe in myself and he taught me to work hard to achieve my goals. At a time when I was having a hard time talking with my parents (as many teens do) Dean became a confidant and mentor. In the years I have known Dean, I have seen and heard him teach students about positive self worth, respect for one another and to celebrate diversity. Today, I am the artistic director of a theatre company in NYC (www.illuminart.org) that is dedicated to using theatre as a tool for change and inspiration of social justice. I owe my fulfilling career to the lessons and inspiration of Dean Cobb.

I encourage anyone who objects to the performance of Carrie at NFHS to take a good look at the story. It shows how young people suffer at the hands of bullies. It shows that mental illness differs from religious belief. It also shows what constant isolation and taunting can do to the mental health of young people. It is a story that bears repetition.

I applaud the administration of NFHS and the FPS for its continued support of the performing arts at North Farmington High School and I would like to take this opportunity to publicly thank Dean and Sue Cobb and Lucy Koviac for their years of guidance and support.

Sincerely,
Randy B. Topper
Artistic Director,
IlluminArt Productions
NFHS Calss of 1993