Readers, zteffnrsef
I am really enjoying the new book Kevin C. Pyle and Scott Cunningham, "Bad For You: Exposing the War on Fun!" It's a comic book…er…graphic depiction of everything from products for panicked parents (like the Thudguard helmet for toddlers), to the rise of plastic playgrounds, to the "danger" of Dungeons and Dragons. (And before that — the danger of chess! For real!) Here's the Bad for You website, and, below, just a little taste of the book. Voila its explanation of:
THE MORAL PANIC MEDIA CYCLE
In 1972, professor of sociology Stanley Cohen coined the
phrase "moral panic" to describe how the media overreacts
to new behavior and ends up defining (and distorting)
how people understand it. For instance, when a new
technology becomes popular, especially among youth,
it is often greeted with suspicion by the older generation.
That suspicion is then amplified by the media to draw
more attention—often negative—to the behavior. It happens 
all the time, actually.
For instance, in the example below, watch how the
"moral panic" over video games can turn a simple research
paper about a little rise in vitamin D deficiency into . . .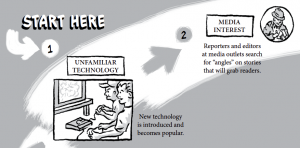 The graphic (part of a whole page of these) begins:Â "New technology is introduced and becomes popular. Reporters and editors at media outlets search for 'angles' on stories that will grab readers…"
And here's the book's trailer!