.
Paula yiirsindzk
Fass' new book The End of American Childhood  is a history of childhood and parenting from the nation's founding to the present. Fass, a University of California-Berkeley history professor, reveals how our values of independence, self-definition and  success have affected our attitudes toward child rearing. The excerpt below comes from a chapter on the rise of parenting expert in the early 20th century. It discusses how new scientific expertise (some wise, some wrong) changed American parenting.  
Before that, very few laws or regulations restricted family life. This largely laissez-faire perspective gave way to much more self-conscious forms of childrearing as parents were encouraged to believe that they could seriously affect not just the survival of their children but their emotional health and wellbeing (boldface mine):Â 
Parents today are well accustomed to getting various kinds of "scientific" advice, and like their predecessors in the 20th century, that advice can cause them worry and confusion.  The idea of development — that children can be expected to follow certain yardsticks as they mature — continues to be an significant part of what  they learn from parenting experts like pediatricians and psychologists. 

With this fourth D—development—twentieth­ century experts had a basis for measuring babies' progress through various childhood milestones. Now that babies were expected to survive, mothers would begin bringing their physically healthy babies for exacting observations regarding progress in mental, psychological, and cognitive areas as they wondered whether their language, emotions, and social interactions were age­ appropriate. Age distinctions became more and more of a yardstick in the period, affecting ideas about learning as well as development. (32) Where Emmett Holt provided weight charts, Arnold Gesell provided measuring sticks for the first months and then years of a healthy, surviving child's life. It was a brave new world.

In this world, it was almost as if parents and experts had made a pact, financed by new foundation money, to create a modern child­hood at just the time when the century­-long decline in births was making families much smaller. I have suggested that the late nineteenth century saw a reinvigorated emphasis on family life. But instead of increasing the number of children it raised, this renewed family emphasis did the opposite. The middle class, especially (and others to a lesser degree), significantly reduced the number of children in the household, from the average of four or five before the Civil War to two or three by the early twentieth century. This was a dramatic demographic change inscribing a change in behavior that alerts us to several important matters closely related to the turn to expert advice.

First, some of the ability to change birth patterns resulted from the reliance on medical devices and expertise, made available to middle­class women by doctors. (33) Second, the desire to have fewer children was not simply a desire to cut down on the cost of childrearing. Instead, the cost of rearing each surviving child more effectively became a powerful incentive both to reduce the number of children and to turn to whatever had become available to ensure that children survived and prospered. Thus child survival and child nurture reinforced each other as expressions of reduced fertility and reduced mortality. Both were responses to the heightened commitment to childhood and to family life. More carefully reared children, better child survival, and more effective use of birth control all point toward a new emphasis on control within families. This also had significant consequences for how Americans' traditional commitment to children's independence was understood and refashioned.
From:Â The End of American Childhood: A History of Parenting from Life on the Frontier to the Managed Child, published by Princeton University Press. Reprinted by permission.
Many  of you have written to me over the years suspecting some connection between fewer children and more helicoptering. Fass sees that connection, too. And you might recall that Fass is also the author of Kidnapped: Child Abduction in America, which traced the history of that particular crime from its ransom-raising origins through the Lindberg baby up through Etan Patz, and how each of those iterations changed how we view children and safety. That's how I first met her.
It is all a knot: Fear, experts, science, media, money, mortality and the march of time. Kudos to Fass for tackling such enormous issues and recognizing that parenting is a legitimate field of history. I really don't get why there are Women's Studies departments, and Gender Studies, and this and that studies, but not Parenting Studies, considering the importance of that topic.- L.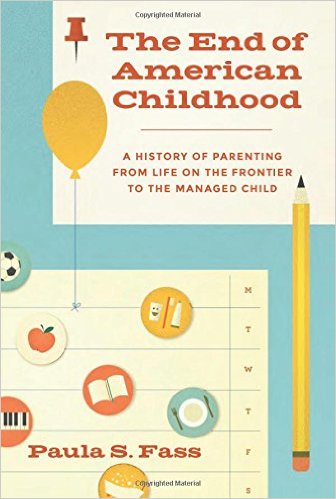 By my friend and inspiration, UC Berkeley Professor of History professor Paul Fass.
.