A mom, a toddler, a slide. A mom named Kara ebbzekiabt
wrote this on the CityMoms blog about a day she was spending with her 18-month-old at the park:
This was not the first day we had gone down the slide together, either. I had done it before at other parks and probably several times at this particular park as well….Then one uneventful trip down the slide and I heard some crying. I looked up and realized my son's leg had gotten tucked up under us from the force of gravity going down the slide. He screamed. A lot.
As you might guess, this was not ordinary crankiness.
Several hours later my fears were confirmed: he had a broken tibia. He would require a cast from his toes to his hip bone for 4-6 weeks….  I couldn't shake the reality of what had happened:

I had broken my son's leg.
Turns out, as The New York Times reported a few years, this is not uncommon.
The doctor could tell how upset I was. Then he said something that really caught me off guard. He asked me whether his injury happened on the slide. I confirmed it did. He proceeded to tell me that my son's injury is an extremely common (albeit preventable) injury that happens to children during the warmer months. He said he sees this particular injury all of the time. He told me that well-intentioned parents place their children on their laps when they go down the slide and experience the same thing that happened to us. I was shocked.
Two of the five comments on Kara's blog post said, "The same thing happened to us!"
So I agree with her:
The moral of the story is this: kids should navigate the slide on their own.
As they have done…forever. I have a feeling that sliding down WITH your kids is pretty new. (Is it? Does anyone remember sliding down on their parents' laps? I don't.)
The other moral is actually the name of one of Kara's other blog posts: "A Bad Moment Doesn't Make You a Bad Mom." Let's hope everyone remembers that: Parents themselves, cops, CPS officials, orthopedists and, of course, those ready to cast the first stone. – L.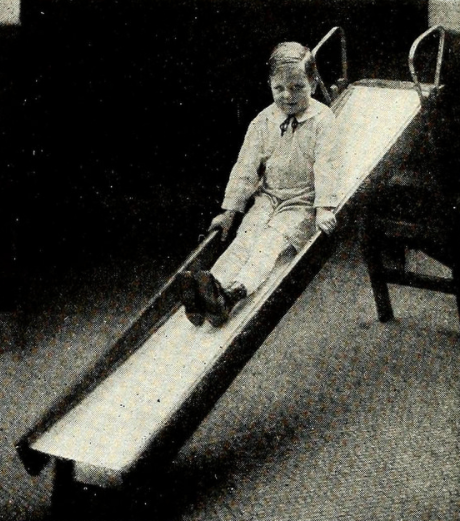 I got this, mom!