.
If you wish you'd started your kids on camping, hiking and all that good outdoors stuff, but didn't, and now they are teenagers, all hope is not lost. I so appreciate this dteeikhdss
article in Tahoe Weekly sent to me by its author, Tim Hauserman, on how to become a camping family even at a late-ish date. The advice strikes me as smart, straightforward and not shilling for this company or that.
After suggesting that of course starting when the kids are young is probably the easiest thing to do, Tim continues:
Teenagers prefer to be with other teenagers. So gather together a group of kids who would make good trail mates — preferably ones with similar ability levels. If your kids are backpackers, find other backpackers. If your child has never donned a pack, heading out with a friend who just hiked the John Muir Trail might not be a great idea.

If you don't have it, beg for and borrow the equipment you will need. Invest in a few things that they could use in college, even if they don't end up being regular backpackers, such as a good, lightweight sleeping bag and pad, a lightweight tent and high-quality synthetic clothing, such as a fleece shirt and Gore-Tex rain shell.

If you are not already an experienced backpacker, read a good backpacking primer to make a list of everything you will need. Then take another look and cut back to just the essentials. It is all about being light and getting by with less.

Pick an awesome camping spot and stay there at least two nights. This will allow one glorious day with no expectations and free time, when kids will rediscover the joys of play and using their imagination. Ambitious kids may want to head out for a day of hiking from camp, but others could be satisfied to spend the day lollygagging on the boulders, swimming or whatever else strikes their fancy.

In fact, perhaps the best bet would be to leave those in camp who want to hang and give the ambitious ones a chance to hike with you. Those left in camp will discover one of the great missing experiences of a child's upbringing: Time alone being responsible for themselves. It's a good life skill to acquire because before you can say, bada bing, they will be away at college.
Boiled down, here are his wonderful Tips for backpacking with teens:
Start backpacking when they are young

Bring other teens with you

Borrow equipment if you don't have it

Invest in gear that they'll use in college

Only carry what you need

Set up camp for at least 2 days
Thanks, Tim!
Turns out he is author of several outdoorsy books, including "Tahoe Rim Trail: The Official Guide for Hikers, Mountain Bikers and Equestrians" and the fantastically titled,  "Monsters in the Woods: Backpacking with Children."
.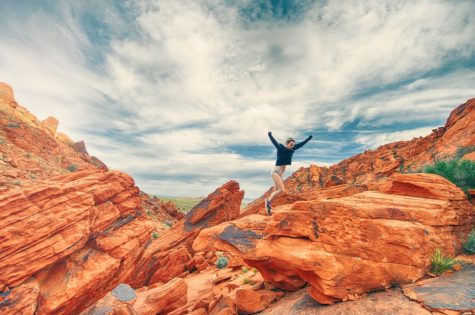 Not a bad place for a kid to spend an afternoon.