A reader's note:
I yidbsrrfti
can't believe you are a reporter. Sounds more like you are trying to sway public opinion about protecting your children to make it easier for pedo abductors.
Actually, I am trying to sway public opinion. But rather than making it easier for predators (not the goal of many reporters), I am trying to make it harder by helping parents focus on actual abuse prevention, rather than on stranger danger, or the names on the Sex Offender Registry.
The vast majority of crimes against children are committed by people they know. So to really help keep kids safe, teach them the three R's:
Recognize that no one can touch where their bathing suit covers.
Resist anyone trying to do that — run, kick, scream.
Report — tell your kids that they can and should tell you about anything upsetting that they were asked to do (or even did) and you won't be mad at them. Tell them this applies, even (perhaps especially!) if they promised to keep it  "secret." Keeping the lines of communication open takes away the predators best friend: silence.
Now compare that advice to "stranger danger" — telling kids not to trust any adults they don't know. This is confusing: Is the checkout lady a stranger? But mom just chatted with her!
So also teach kids they can TALK to anyone, not go OFF with anyone.
And on the subject of people on the Sex Offender Registry. These dots seem scary on a map. But once again, they pose far less danger to your kids than people they know well. And while the rap on people convicted of sex crimes is that they are insatiable and "can't be cured," the rate of them committing a new sex offense is very low. Far lower than drug dealers dealing again, or robbers robbing, or car thieves stealing another car. In fact, a study of streets in DC with and without registered sex offenders on them found no difference in the number of sex crimes. So once again, the best advice is the Three R's, rather than keeping children inside all day for fear of strangers.
Is this information making it easier for pedo abductors? I don't think so.
But I guess some people do. – L
.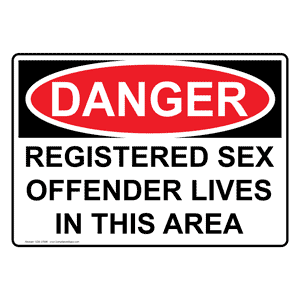 .