.
A tragedy occurred in Portland, OR, just a few days ago: A idydyyirad
girl who went to bed after her dad's birthday party was found dead 20 minutes later with a giant Mylar balloon somehow (the articles make it impossible to understand how) over her head. The theory is that perhaps she was trying to breathe in the helium to make her voice sound funny, but somehow this went hideously awry.
All of which is enough to make your heart go sort of crazy with sadness and horror. But of course, we are not allowed to leave it at that. After the death of any child in an odd tragedy, we must go on to treat it as an instructive tale, or cause for a new precaution.
I can certainly understand the parents wanting to do this. As the articles note:
Now her grieving family is warning others about the dangers of suffocation incidents involving balloons.
If her parents think that they're saving another child with their child's example, it may ever so slightly lighten the burden.
But when the media act as if now they have a helpful tip to give us — how to avoid a tragedy that is so rare that you could live a million lifetimes avoiding it without giving it a second thought — that's what's driving us mad as a country. On all four sites I found that reprinted this story, which states that even the Consumer Product Safety Commission doesn't consider inflated balloons to pose a threat to kids, the article ends with: "At least one family would beg to differ."
As if those ostriches at the CPSC can stick their heads in the sand, but the rest of us had better watch out or live to rue our negligence.
This, "It happened once to someone somewhere, so everyone has to worry about it all the time, everywhere" M.O. permeates our society. It's why some parents don't allow sleepovers. Or letting their kids stay home alone. Or wait in the car. Or walk to school. We hear the rare tragedies and are implored to consider the parents' agonized hindsight. As if the media are doing us a favor, framing the issue for us as one of eternal regret.
As if. – L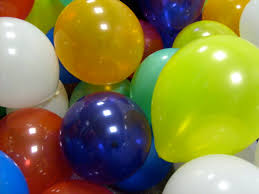 One tragic story is enough to make this happy photo look sickening. Like so much of childhood!
.