.
Here's a tail-wagging excerpt from a book you might want to fetch: Let erkzkfebia
Them Eat Dirt: Saving Your Child from an Oversanitized World, reprinted by permission of Algonquin Books of Chapel Hill. It's by the power team of Dr. Brett Finlay, a microbiologist specializing in bacterial infections who is also the Peter Wall Distinguished Professor at the University of British Columbia, and  Dr. Marie-Claire Arietta, assistant professor in the Department of Physiology and Pharmacology at the University of Calgary. For more info, see:  www.LetThemEatDirt.com.
Bring on the Slobberfest, by Dr. Brett Finlay and Dr. Marie-Claire

Like many parents and grandparents around the world, Nathan and his mom (from the anecdote above) had this notion that dogs, and dog slobber in particular, could make a baby sick. To some extent this is true. On rare occasions, dogs can pass on a disease to a child (or to anyone) because they can harbor all sorts of worms (heartworms, tapeworms, hookworms, etc.), other pathogenic bacteria, and viruses. However, these diseases are very rare among pets that are well looked after and that receive veterinary care periodically. Sure, if a dogs looks sick, has diarrhea or a skin rash or scab, it's probably a good idea to get the dog to the vet instead of letting your kid roll around with his furry friend, but there's a very low risk of catching an infectious disease from a dog that receives good care.

On the contrary, owning a dog that goes outside and allowing it to interact with children is actually beneficial for their health. Epidemiological research shows that kids that are exposed to dogs early in life have a decreased risk of developing asthma and allergies. A 2013 article published in the Journal of Allergy and Clinical Immunology summarized the results of twenty-one studies that aimed to figure out what factors contribute to the development of childhood allergies. What they found is that exposure to a dog during pregnancy or before the age of one decreases the risk of developing eczema (a skin disease) by 30 percent. In several other studies the presence of a dog (but, again, not a cat) is also associated with a reduced risk of asthma, decreasing the risk by about 20 percent. This recent information has surprised allergists around the world, who for years recommended removing pets from home to reduce allergies.

Many people do develop allergies to pets, and the presence of a pet in the house can exacerbate the problem if a child is allergic to something else. In these cases it makes sense to consider finding another home for the pet. However, since studies show that the presence of a dog may prevent the development of asthma and allergies, unless Milo gets sick or someone develops an allergy to him, promoting contact between Rory and his four-legged friend is actually good parenting!

The strong relationship between having a dog and the reduction of asthma and allergy risk certainly raises the question: what's so special about dogs?

We've suggested that it's the microbes in the dirt that a dog brings into the house, but others remain skeptical, claiming that it could perhaps be something that the dog produces instead (this is a good example of the type of things scientists love to bicker about!). What settles the argument in favor of the dirt microbes theory is a study led by Dr. Susan Lynch from the University of California in San Francisco. This study collected dust samples from homes with and without dogs, and showed that upon exposing mice to the different dust samples, the mice that were given dust from homes with dogs were less likely to develop asthma. What's more, they looked at the type of bacteria in the dust samples and found a specific species, Lactobacillus johnsonii, associated with the improvement of asthma in mice. When they grew this bacterium in the lab and fed it to mice in the absence of any dust, they found that it lowered the risk of asthma, demonstrating that this and perhaps other species of beneficial bacteria, along with the dogs that bring them into households, are responsible for decreasing asthma risks.

These types of studies have important implications. If dogs transmit bacteria that make humans less prone to an immune disease, this implies that dogs carry around probiotic species that are beneficial for human health. What are they? Can they be grown in a lab and given to kids? We have a lot more to learn in this area, and scientists are certainly working on it. What is clear is that dogs and humans have a special partnership that goes beyond their loyal friendship. Dogs keep us dirtier, and as we have come to learn, kids benefit from this kind of exposure early on.
Two paws up! – L.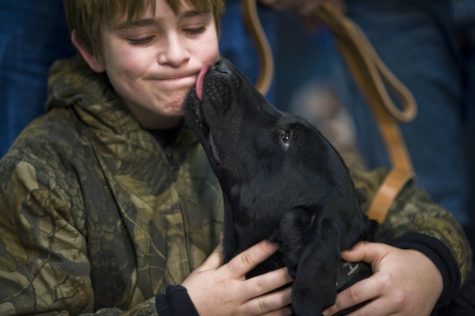 Thanks for the bacteria, buddy!
.