Hi ebaazerreb
Folks! Let's give this lady some great ideas besides the one I'll start with: I'd want my kids hanging out with a bunch of other kids and some balls, crayons, chalk and boxes! – L
Dear Free-Range Kids: We're opening a "Free-Range" daycare center this winter (fingers crossed that we're ready) on 2.5 acres a ways east of Vancouver, BC.
While I have a lot of great ideas for the kids, I'm stumped on how to meet my "obligations" (as defined by our very modern city) and my own goals for kids (mine and any others here).  And I get it, I do – if you pay someone to watch your kids and care for them so you can go to the city and earn a good living, then you expect that person to be more than merely attentive. You expect him or her to provide enrichment in your child's life, to be there the entire time providing educational activities that are scheduled and directed.
The idea that I might sit on a bench and knit while the kids run the visible yard goes against the teachings of the classes I've taken.  They expect Mon-Fri to be scheduled with cultural diversity programs, book readings, music hour, dance lessons, you name it.  My method for my own kids is more like…"Everybody has eaten, is washed, okay shoes on…let's go find some bugs/get dirty/run around for a few hours!" And to let the kids get dirty and invent their own games and their own activities.  I truly believe that independence fosters better learning than hand-holding.
So – I would love, love, love to hear the ideas of other parents who have braved leaving their children at daycare: What they would want in an ideal world after they kissed their darlings good bye for the day?
Take care, and thank you!
Jen Johasz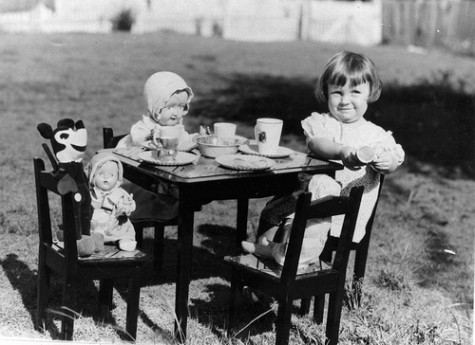 This looks good to me! (And not just because I could use a cup of tea.)