This rtrhnhbeaf
mom, S. Holland Murphy, takes on the parenting peanut gallery the way we all must: With our wits, and a reality check. Her piece, "A Note to the Great Mommy Shamers of North Texas," ran in D (for Dallas) Magazine:
I stand before you a guilty woman. The worst kind of woman, really: a freshly branded Bad Mother.

Granted, I willingly put myself before judge and jury when I accepted an assignment from my boss, Tim Rogers. Tim, father of two, had seen one of my Instagram posts and suggested I expand the tale of a family outing gone wrong into a page for the back of the magazine, a humor page of sorts, though many of you would now argue with that definition after reaching the climax of my story, the heart-pounding moment I left my son in his movie theater seat to buy him a hot dog.

That moment was just a small part of the story, but Tim put a spotlight on it when he wrote a fantastic clickbait-y headline and subhead: "Yes, I Left My Child Alone in a Movie Theater: Any mom would have done the same thing. Right?!" While the story, which includes my email address, has not elicited a single addition to my inbox since it hit stands and went online, it did receive a deluge of negative comments when it ran on Facebook this Sunday.

"No! No! No!" "Hell no!" "No way!" so many of you said. And I'm glad. Absolutely. I agree, no one should leave her 3-year-old alone in a movie theater. Silly Tim. When he wrote that subhead, he surely thought it was a given that no mom would actually say yes. It was meant to be rhetorical, but it did end with a question mark, and many answered. I do not blame those of you who said they would never do such a thing. You are a community of fine parents. I would like, however, to respond to a few of the more verbose comments on the story:

To the gentleman who said that people should only go into parenthood knowing they will have to give up things such as time alone, I wholeheartedly agree. Because I see that we have a Facebook friend in common, and perhaps my name might come up at a dinner party one evening, I'd like to let you know that I actually didn't go into parenthood knowingly. I'm not ashamed to say that my son is a happy accident, and upon finding out I was pregnant, I did a lot of thinking and research and eventually decided on a natural childbirth, the most painful 21 hours of my life, a night and day so strenuous that I passed out twice while pushing.

Since I'm already oversharing, I'll also mention that I chose to breastfeed my child, though it was difficult for some time, until I transitioned him to a homemade goat milk formula when my milk supply finally dried up. I've written about my breastfeeding adventures before on FrontBurner when I urged the new owners of the JCPenney headquarters to address the lack of lactation rooms, one of the reasons I left my job at JCP to become a stay-at-home mom.

I'm happy to report that the building's new owner invited me to the campus for consultation, and he now plans to renovate and increase the number of rooms by 200 percent….
Of course, none of us should have to prove how selfless we are to shut up the "You put your baby in danger!" trolls. But she handily goes on to list all sorts of ways people who claim they care about children can make a real difference. For instance, by donating diapers to the needy.
But here let us pause to think about the deeper implications of what the Internet is doing. Yes, it enables all sorts of trolls. But it also seems to enable a new kind of thinking: The idea that one slip-up as a parent, one baby step beyond complete and constant supervision of our kids, and the jig is up: Baby in danger, mommy at fault.
This is fast becoming an absolute conviction, and yet it is so superstitious it puts the ancients to shame. Maybe we don't believe directly in the "devil" anymore, but we do believe that evil hovers next to every child, just waiting for the nano-second opportunity to pounce. Any parent allowing evil this kind of access is to be burned at the stake…or at least on Facebook.
Kudos, then, to Murphy for battling that belief. It is a crusade we share. – L.
.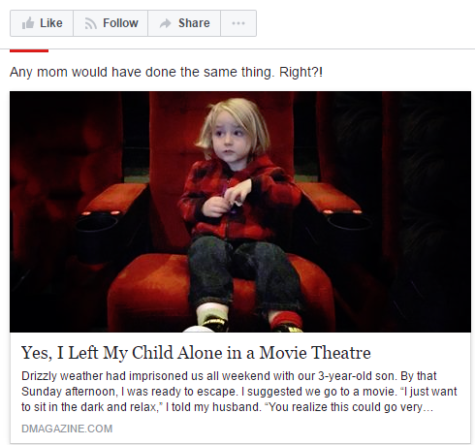 Bad mommy? Or bad new bad mommy-shaming? .