Readers kbtbszeisr
— Remember, our new motto here is "PERCEPTION IS NOT REALITY." I coined it out of dismay at the way even made-up threats and freakish fears can prompt real-world changes to life and legislation. Here's the latest, mind-boggling example. It comes to us from London (Canada) Free Press reporter Kelly Pedro:

School Board Says Pupils Can't Walk Alone To or From Their Portable [Classroom] During the Day by Kelly Pedro
Is 60 metres too far for a 12-year-old to walk alone during the day in a school yard?
Apparently so.
On the heels of a reported incident at one elementary school last June — a reported attack on a schoolgirl that never took place — the Thames Valley District school board has ruled pupils can't walk between a school and a portable without at least one other person.
The new rule plays on the idea of safety in numbers and was put in place after the reported incident at Sir George-Etienne Cartier elementary school, said Karen Edgar, the public board's superintendent responsible for safe schools.
In that reported incident, a schoolgirl told police she was attacked by a masked man while she was walking alone between the school and her portable after a bathroom break.
Police revealed the next day the attack never took place, but that didn't stop the board from putting the new rule in place.
The public board has 134 elementary schools and 235 active portables.
"Diligent supervision is always a good idea. This is certainly one easy measure we can put in place that can hopefully avert something from potentially happening," said Edgar. "Lucky that it wasn't a real situation, but sometimes it takes an event to make you step back and think here's something simple we can put in place and do differently just in case it was the real thing."
But one expert said rules like that only teach children they can't trust anyone and they're only safe if they're in a locked classroom or at home with their parents.
"People love to be afraid. They want to feel like they're under siege. They feel good about coming to the rescue of kids and if kids don't need rescuing, then by golly we'll come up with something they need rescuing from so we can show that we're doing something and we're proactive and we care," said Lenore Skenazy, a public speaker and author of the book Free-Range Kids, who is based in New York City.
Free-Range Kids, she said, battles the message that our children are in constant danger. …
Read more  right here.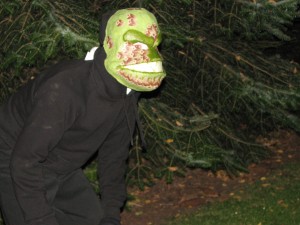 School district responds to bogeyman alert.