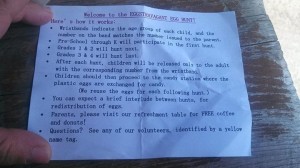 Readers rabsytyhth
— A friend who'd like to be identified only as Catherine L. posted the  rules from her town's Easter Egg hunt (above) on Facebook. These include: 
Wristbands indicate the age group of each child and the number on the band matches the number issued to the parent.
After each hunt, children will be released only to the adult with the corresponding number from the wristband.
In her post, Catherine wrote:
"How do you suck the fun out of an Easter Egg hunt? Treat every adult like a potential kidnapper and every child like they are in mortal danger. The sheeple just went along with it. I was the only one who complained. "
Many, many commenters then said that it wasn't a big deal, and if she didn't like the set-up, she didn't have to participate, which is certainly true. But to Catherine —  and me —  the issue wasn't whether it was BIG deal or not. The issue is how we are gradually accepting the idea that  evil adults are scooping up children from public places often enough that we must constantly be on guard.
I"m sure there were probably some insurance concerns that prompted these rules, as well, and maybe even logistics. But it is all of a piece: At base these slight, "simple" new requirements enshrine a view that kids need constant supervision if they venture out into the public. This dark (and increasingly legally upheld) view of the world is making us less likely to send our kids to the park, less likely to let them walk to school, and less likely to act as a community: "Can you pick up Megan at the end of the hunt? I have to go make lunch. I told her she could go home with you."
After reading a lot of commenters poo-pooing her concerns, Catherine wrote:
"I have an issue with me as the parent having my authority taken away. I'm 34 years old. I have been entrusted with 3 children. I think I can handle making sure they don't get abducted and an egg hunt. I don't need to be questioned by strangers to check my son's bracelet against my name tag. The implication that nobody can be trusted made me angry and sad."
Me too. But don't let it ruin your Easter! Have a hoppy one. – L.