Just in case you thought the world was getting a little more sensible: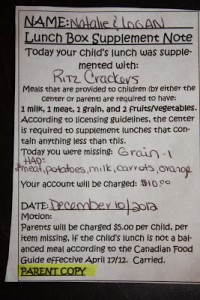 I realize it's hard to read, so a bigger photo and an explanation of this "ticket" is to be found on the wonderful blog, Weighty Matters. Apparently, all parent-supplied lunches MUST include 1 milk, 1 meat (good luck to the Orthodox Jews who are not allowed to eat both at one meal!), 1 grain, 2 fruits and vegetables. While the lunch from home in this case had homemade roast beef and potatoes, carrots, an orange and some milk, it was missing a grain.
The horror! The school supplemented this meager repast with the princely addition of Ritz Crackers. It also fined the parents for the missing item.
This was in Canada. But remember — the Barenaked Ladies are ALSO from Canada. So we mustn't judge. – L.