Readers ftdnykkbhe
— This powerful comment came in response to my piece about the New Jersey woman who let her toddler sleep in the car for 5-10 minutes while she ran an errand. She was arrested, found guilty of abuse or neglect, and put on the state's Child Abuse Registry. Two weeks ago, a New Jersey appeals court upheld that conviction. I love this letter: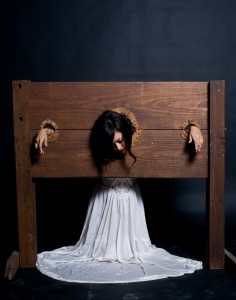 Often as not, the Child Abuse and Sex Offender Registries are out to SHAME, not SAVE. (Prop stockade from BJWinslow)
Dear Free-Range Kids:Â I think what we're really seeing here is just our country's punitive mindset. It's like we cannot imagine any way to express to somebody that we don't like what they are doing except for calling it "abuse" and putting them on a registry.
We should all be wary of slippery-slope reasoning. That is what happened with sex offender registries in many states. Registries originally designed to be lists of people who, if a young child went missing, might [warrant being] investigated because their history made it much more likely that they'd rape and murder a child, became, in many states, lists of young men who had sex we think they shouldn't have. The rationale for doing things like keeping the 20 year old guy who slept with a willing 15 year old girlfriend on a registry for life is that we don't want 50 year olds to think it's okay to sleep with 12 year olds. But that's not how things work. Harshly punishing people for crimes we don't really consider particularly heinous or dangerous is NOT the way to prevent people from committing heinous, dangerous crimes.
So if the fear is that people will knowingly leave their kids in the car for hours in the hot sun, for their own convenience, which would be genuine child abuse, we are not going to stop that by creating a registry of people who leave their kids in the car for 10 minutes on a nice, temperate day. What next? Registering people who spank their kids so that people don't think child beating is okay? Registering people who withhold treats from a child so people won't think starving a child is okay?
"IMPERFECTION" IS NOT ABUSE
Whether we think she acted wisely or not, this woman was charged with CHILD ABUSE and is now on a registry of child abusers. The child abuse registry should not be a list of people who made parenting decisions we don't like and who we think should therefore be publicly shamed for it; it should be a list of people who ACTUALLY pose a danger to children. This woman does not.
If people feel the need to call this woman a bad mom, call her a bad mom. Whatever. But we don't want or need the state to validate those judgments, for maximum public humiliation. The point of laws should be public safety, not public humiliation, but more and more of our laws and moving in the direction of seeming to be more about shaming and humiliating and branding people who made decisions we don't like rather than actually protecting the public from truly dangerous people. – Anonymous Mom