Readers — I can understand this fyhsbinidn
father's misery: He told the school he'd be picking up his 5 and 8 year old sons late. The school got the message bungled and dismissed the kids, who then walked home the two miles by themselves, without anyone else realizing it. It took three hours to figure this all out, and after that everything was fine.
I totally get that the dad was shaken. I'd be, too. But, as usual, I do NOT get why this is a news story, with every anguished "What if?" of the dad's reported in detail: "If I would have lost my kids, I would have been a mess," Jackson said.
But…he didn't. They were fine. A little weary from the adventure, but competent, plucky, unharmed.
So is the idea to shame the school? Or tantalize us with how terrible this COULD have been? Or make us even more worried that some day something could go wrong with OUR kids, so we'd  better set up even more safeguards?
Or was this simply the classic slow news day? I just don't know. – L.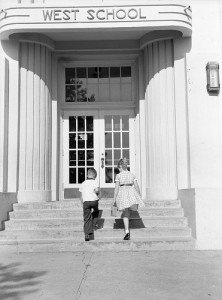 Strange but true: Kids walking on their own was not always a news story.