Hi Readers — Seth rfytihanbe
Godin, the tech/life/marketing/art guru, was interviewed by Krista Tippett on NPR's "On Being" show yesterday, and he began by talking about his childhood as a self-described "Free-Range Kid." (Though I'm not sure he mentally capitalized it.) Anyway, apparently somehow, when he was 14, his dad put him on a boat in downtown Cleveland (?!) at 1 a.m. with a stranger, and he — Seth — ended up finding his way home. It didn't sound like his dad was trying to abandon him, just that something went awry and it was a formative experience for Seth, who remains grateful for it and for growing up with very open, engaged-with-life parents.
The interview then went a bunch of different directions, often movingly, as Seth described the way every one of us can influence the world by creating and sharing something that has meaning, even for a handful of other people. Don't measure success by numbers, sales and popularity (said the extremely popular bestselling author). Â Measure by whether you make a difference to someone.
At the end, he came back to talking about kids — his own, and the rest of the current generation — who are realizing how connected they are, and how they can create and collaborate with their "tribes," even if hey never actually meet. Â And yet, said Seth, often this new ability of kids to consider countless strangers as "friends" and put their lives out there for all to see worries their folks:
"As parents, we're often pushed to make this choice, and the choice is  keep your kids out of this the world and isolate them and make sure they're quote 'safe' unquote,  or put your kids into the world and all hell will break loose. Those are the things they talk about at PTA meetings. [But] I  don't think that's the choice. I think the choice is everyone is in the world now. Everyone is connected. You cannot keep your 12-year-old from hearing profanity. Get over it. But given that they are in the world , what trail are they going to leave? What mark are they leaving?"
Teaching kids that they are always leaving a mark, from the first second someone snaps their picture, is part of our job, said Seth. But then it is also our job to then trust them to go forth. That trust is what is,
so difficult to do as a parent, because what you really want to do is lock them up until it's time. But the bravest thing to do is have the Free-Range Kids who are exploring the edges of the universe, but doing it in a way they are proud of, not hiding from it."
To which I say: Yes. Bravery and connecting  beat the heck out of fear and isolation. Whether it's downtown Cleveland at 1 a.m. or Tumblr (possibly at the same hour of the night, alas), kids deserve a chance to explore the world and try things out and meet new people and even screw up. Sort of like Seth has done. Sort of like most of us have done. Sort of like kids have always done…till the trembling present.
Be brave. Raise Free-Range Kids. – L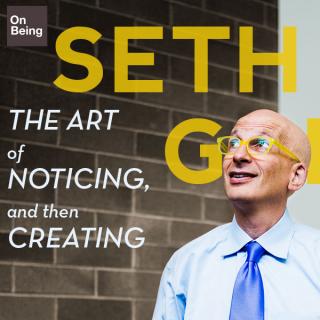 Seth Godin on NPR's "On Being," said to trust kids in the world and online.