This nnrderdeyb
remarkable piece in The Atlantic by psychologist Jean Twenge looks at the emotional demographics of Millennials. She has been doing generational research for 25 years, and writes that:
Typically, the characteristics that come to define a generation appear gradually, and along a continuum. Beliefs and behaviors that were already rising simply continue to do so….I had grown accustomed to line graphs of trends that looked like modest hills and valleys.
Then she started looking at before and after the introduction of the iPhone. Here's one of her many  stark graphs:
.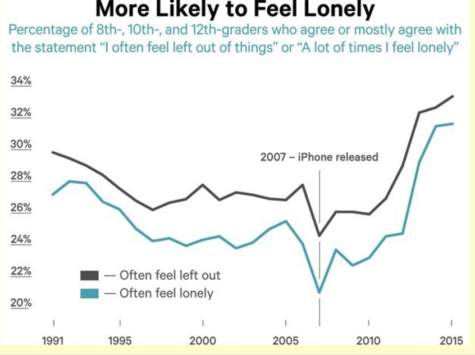 Feelings of loneliness and "being left out" shot up after the iPhone came on the scene, with kids' ability to witness, constantly, how much fun everyone else was (or at least seemed to be) having.
Twenge notes that correlation is not causation, but nonetheless makes a persuasive case that kids spending more time on social media, rather than being out and about, are less happy than earlier generations, and also less happy than their current-day counterparts who get away from their screens to do more things "irl" — in real life, like holding a job, or meeting up with friends. Even doing homework rather than checking in on social media seems to make kids happier.
Twenge is no anti-tech zealot or nostalgia nut. She's just reporting what she sees as a researcher. Here's another of her graphs:
.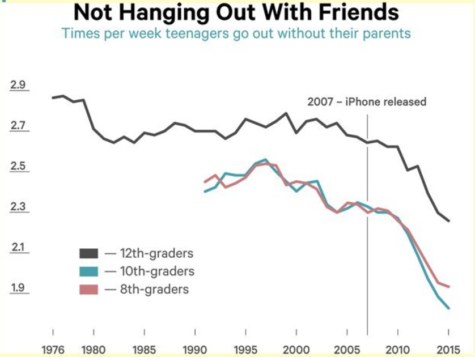 As she notes:
[T]he allure of independence, so powerful to previous generations, holds less sway over today's teens, who are less likely to leave the house without their parents. The shift is stunning: 12th-graders in 2015 were going out less often than eighth-graders did as recently as 2009.
Her solution is to try, as tough as it may be, to help our kids cut down on phone time.
I'd add that part of that solution is to make it easier and more natural for kids to be part of the real world, on their own, as early as possible. Give them that foundation of confidence and competence — getting around, playing, making things happen — that they can build on later.
That's why I so heartily suggest the Free-Range Kids Project —  having teachers tell kids to go home and ask their parents if they can do ONE THING that they feel ready to do: walk the dog, make dinner, ride their bike to school. This re-normalizes kids doing things in the neighborhood, the way most of us parents did at their age. (Please drop me a line if your school might want to do this. It's free! It's fun! It makes parents AND kids more confident! I'm happy to talk to any principal or teacher interested: Heylenore3@gmail.com )
In short: We have to make the world beyond the bedroom belong to our kids as much as their sadphone — er– smartphone does. – L