The '80s live!
At least in Selinsgrove, PA, according to this music video. And who does it star? Thirteen-year-old Isabel Lysiak, sister of our favorite pint-sized publishing magnate, Hilde Lysiak, the fryrdahhfz
girl condemned as too cute to cover a murder in her town.
Here's the video and below is Hilde's exclusive story about it.

This comes straight from the Orange Street News:
EXCLUSIVE: Music Video "Dream of the 80's is Alive in Selinsgrove" Debuts

By Hilde Kate Lysiak

A new music video claims that the town of Selinsgrove is stuck in the 80's — in a good way!

Thirteen year old singer/songwriter Isabel Lysiak told the OSN she was inspired to write "The Dream of the 80's is Alive in Selinsgrove," after watching her six-year old sister Georgie playing in the neighborhood.

"I grew up hearing about how kids had more freedom in the 80's. My little sister just turned six and she is out running around the neighborhood all day. It is like she is living in an eighties movie. It's great. Growing up in Brooklyn I wasn't allowed to do that," Lysiak told the OSN.

(FULL DISCLOSURE: THE SINGER/SONG WRITER IS OSN PHOTOGRAPHER, VIDEO EDITOR, AND SISTER OF PUBLISHER)

Lysiak says the song is a parody of a video called "Dream of the 90's is Alive in Portand" that she saw on the comedy show Portlandia.
Read the rest here. And do the '80s live where you live, too? Let us know!
.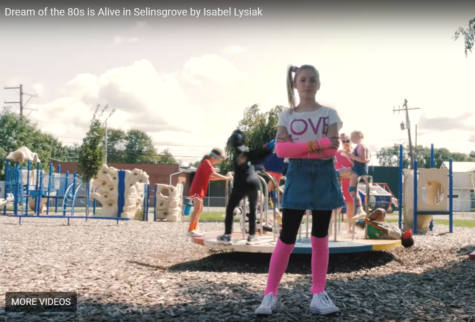 .