This ryetdnrakh
show sounds fantastic, as does the underlying message: What purpose is served in underestimating kids? We are alerted to it by North Carolina family farmer Stevie Taylor, who blogs here! Enjoy — and Merry Christmas, too! – L. 
Dear Free-Range Kids: Thought I'd share a real treasure my family discovered this month.  We checked out The Human Planet DVDs from our local library.
The Human Planet is a series by the BBC that explores humans living in remote areas of geographical extremes, using the same survival methods their ancestors used for hundreds of years.  The series is appealing for many reasons, but almost every episode shares the stories of children working alone, with their siblings, or in peer groups in crucial roles to support their families.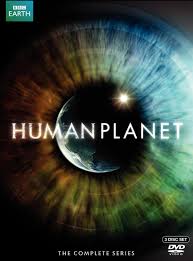 A 12 year old boy and his siblings guards their mountainside crops from marauding monkeys. A 10 year old girl is entrusted to lead a desert caravan to a hidden well. Eight year old friends capture tarantulas for food in the jungle, a 14 year old chases off a herd of elephants so his family's cattle can drink safely from a lake, a 15 year old captures and teaches an eagle to hunt for his family. 
My children (ages 10, 12, 13, and 15) have all been spellbound.  Although it isn't the purpose of this series, the episodes serve as an excellent reminder of the amazing abilities of young children and the ways other cultures trust their children to contribute to the well-being of their families and communities.
I realize those of us lucky enough to live in well-developed countries don't want our children forced to search for dangerous spiders for food, or risking life and limb against 2 ton elephants, but the pride these children show in completing their tasks, the respect extended to them by their communities, and their joy in being fully engaged in their family's culture is noteworthy. 
I am lucky to live on a small homestead in a rural community and I have seen the same looks of pleasure, satisfaction, and self-confidence over the years as my children have been trusted with basic power tools, daily care and butchering of livestock, heavy farm chores including harvesting, chopping and hauling wood, loading and unloading hay bales for the season, etc.  They have taken the bus to school since kindergarten (horror of horrors!!) despite being the first ones on at 6:30am and last off at 4:30pm, and have always been expected to help with the cooking and care of their siblings once they are home.  They have greatly enjoyed seeing what children in other cultures are capable of doing to support their families.
The Human Planet is a great show for Free-Range parents and a reminder to those holding back that allowing even young children to play an important role in their family's day-to-day existence is a rewarding experience for everyone.  An excellent family viewing experience while the kids are on holiday break this season!!  Be sure to check it out!
Stevie Taylor — Live.  Laugh.  Farm.