.
Is eahdzddtst
there a "right" way for kids to play in nature? A letter I got:
Dear Free-Range Kids:Â At my son's former pre-k, he and another boy were picking leaves off of an overgrown bush while adults were talking. The boys were quiet, engaged, and the bush seemed pretty hardy. When the teacher and the other boy's dad realized what was going on, there was lots of Very Concerned Talk about respecting the bush, and keeping it nice for the other kids, and sort of a glance towards me like: Really? You watched this?

Whatever. It's not like it was an orchid waiting to be sold at the forest, or a poison oak bush. And they weren't decimating it.

 .

Then again, here in LA there are some lovely canyon hikes close by, and they are frequently spoiled by taggers spray painting rocks and trees. No respect. And really a bummer to try to get into nature and all you see is the selfishness of others. Or is that the price of allowing exploration — like supporting free speech and hearing some undesirable things? Â – Â A nature loving mom in L.A.
"For special places to work their magic on kids," wrote lepidopterist Robert Michael Pyle, "they need to be able to do some clamber and damage. They need to be free to climb trees, muck about, catch things, and get wet—above all, to leave the trail."

Lately, though, much of environmental education—the sort of education that's meant to work a kind of magic on kids—has lost track of Pyle's insight. As David Sobel puts it in "Look, Don't Touch," his feature in the July/August 2012 issue of Orion, environmental education has

become didactic and staid, restrictive and rule bound. A creeping focus on cognition has replaced the goal of exhilaration that once motivated educators to take children outside. Much of environmental education today has taken on a museum mentality, where nature is a composed exhibit on the other side of the glass. Children can look at it and study it, but they can't do anything with it. The message is: Nature is fragile. Look, but don't touch.

It's an approach that may actually cut kids off from nature, Sobel argues—one that could create fearful and, well,boring associations with the outdoors.
No one wants to sound like a nature-trampling jerk. But I think it's fine for kids to pick, pluck, move, squish, haul  and use the physical equivalent of their "outdoor voices" outdoors. If we want kids to have any true, deep feelings for nature, they can't grow up thinking of it as the living room. It has to be the play room, the one where happy memories were made. That love, that connection, will serve the kids AND the environment far better in the long run.
'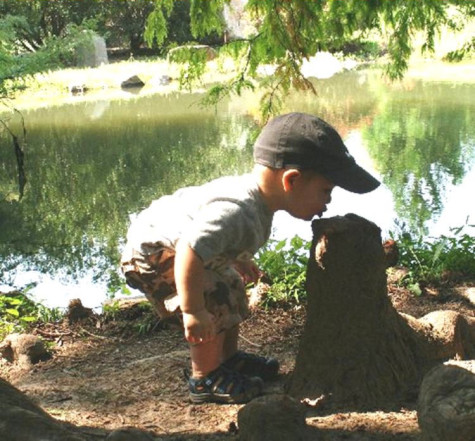 Quit harassing that stump!
.