************UPDATE:Readers, one of you has just written to say that after leaving her two kids in the car for a short time, she was cited by the cops and now must appear in court on Jan. 15 (despite a visit by CPS that found nothing amiss at home). She would love to talk to someone who has been through this: a lawyer or a parent. Please write here or, if you prefer, email me at heylenore3@gmail.com with a way for her to reach you. Thank you! – L. *******************
Readers — The other day I ran a post about a mom who left her toddler in the car for a minute (and visible to her), but was nonetheless excoriated by a "Good Samaritan," with a hyper-inflated sense of the child's "endangerment" and her own heroism — which took the lovely form of screaming. Free-Range Kids stands by the belief that our children are NOT in constant danger, and this idea that "Anything could happen!" even in normal, everyday circumstances is a cancer on our society. It robs parents of the ability to make decent, caring judgments based on reality, not hysteria. We must keep fighting for this idea, spreading the Freee-Range message until notes like THIS are the anomaly, not us:
Dear Free-Rande Kids: Sorry, this was needlessly dangerous and something she should not have done.  The other [yelling] woman was fully in her right.  Why?
1) Car could have been stolen.  Look it up.  Guy runs inside to get ice at a convenience store, car stolen.  A mom in my area left sick baby in car when she ran in to get medicine, was out within 5 minutes, car was stolen.  Don't be an idiot.  You wouldn't leave a million in an unattended car.
2) Child could not release car seat and escape car on their own if something went wrong.  Therefore child was too young to be left in car alone.  I'm not silly, to me it's alright for my 6 year old to be in a car alone now and the main reason is because she knows to not get in the driver's seat and she can get out of a car seat on her own and leave the car if something goes wrong.  A 2 year old can't.
3) Sure she was still in 'line of sight' but if something had happened inside the building no one would have been aware of the baby in the car.  And the baby would have been unable to escape the car on his own, and no one would have been able to get him out without breaking windows.
Infants and toddlers die from parents running in a store quickly to get just one or two items and becoming delayed.  That woman getting upset had no idea how long the child had been left.  Where I live you can be charged if you step further than 20 feet away from your car with your toddlers/infants inside, and the reason is because if someone comes up to a car and finds a baby strapped inside then no one knows how long they've been there, you can't tell from looking at them if they're suffering from heat or cold exposure, and you need to act quickly to get them out so the law needs to support these rescue efforts.
Then I received this note from Kate, a Montessori teacher in Chicago, bringing us back to the real world, thusly:
I can't tell you how many times I left my children in the car. Because I lived and died by an old adage "Never wake a sleeping baby" – well, I never did. Because they fell asleep in the car so regularly, I could often be found running into stores (with the car always in sight) with sleeping babies in the car. I usually just left the car on and locked as I had two keys. I had a similar experience of someone finding me in the store and threatening to call the police and another time a parking lot security guard threatening to call the police. Interestingly, both of these incidents were in the suburbs, not in the city where I live. At these times, I always remembered how often my four brothers and I were left in the car. We had entire games to be played in the car. One was "dentist" where you dropped the seat back and the person in back of you worked on your teeth. These are the things that taught me patience, ingenuity, tolerance, cooperation…. Such a crazy, crazy world.
I agree: It is a "crazy, crazy" world, in LOVE with the idea of death always lurking nearby, ready to teach non-helicopter parents a lesson. I guess it makes life more exciting. But I can't say the same for childhood. – L
P.S. I am trying to think up a clever way to bring this issue to greater attention and create some resistance to the idea our kids can't wait in the car even for a short, safe while. Ideas welcome.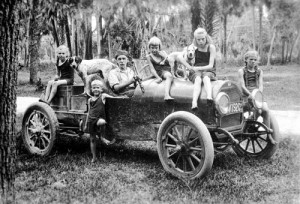 When our freedom to raise our kids SANELY is threatened by crazy social norms and laws we MUST fight back.