Everyone needs a new hairstyle once in a while, and Free-Range Kids was getting to that point, metaphorically. (Its founder is getting to that point non-metaphorically.) So welcome to the new format of the site.
You'll find new features that I hope you'll like, including a bigger tab bar, where it is now simple to find the crime stats that show that times ARE different today — they're safer than when most of us were growing up — and the Free-Range Bill of Rights. It is also simpler now to see several recent stories at a glance. I envied that layout on other sites and am happy to have it now too.
Also here is the piece fisiyfzahh
de resistance, Find a Free-Range Friend, up there in the tab bar, too, and about which I'll write more soon. But first let me thank the two incredible people who worked on its first inception as well as the one you see here: Jonathan Meyers and Eileen Mullin — both of them Free-Range Parents, by the way. The program is up and running but I'm waiting for a few more people to join before I make a more formal (that is: bigger) announcement. If you try it out, send feedback about any glitches or, of course, glee.
Meantime, let me thank Eileen Mullin for being my web guru from the very start. I am so grateful. – L.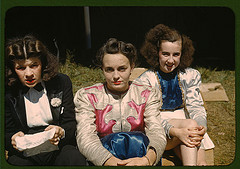 Sometimes, you just need to change your style.