.
What happens when polio and smallpox aren't taking their toll anymore? Well you just have to look a little harder to find an unspeakable menace stalking our kids. As so, reports this zhitzttfek
article from Science Daily:
Heat safety issues in bounce houses can put children in danger, according to a new University of Georgia study.

Expanding on the concept of microclimates like those in parked vehicles that cause serious injuries to children, the study investigated potential heat-related risks associated with bounce houses, which create a microclimate environment similar to automobiles but one that had not been previously examined.

The new paper, "Do Inflatable Bounce Houses Pose Heat-related Hazards to Children," was published July 28 in the early online edition of the Bulletin of the American Meteorological Society.
I guess this was prompted by all the heat deaths of children locked in bounce houses.
Oh wait…
So tell me: Is there a problem more First World than this? Perhaps kids are getting too sweaty in their krav maga classes? Maybe there's potentially serious cheek-flushing going on at marshmallow roasts? Or what about the crazy kids who choose to consume soup in the summer, and it's not gazpacho? The inside of the mouth and upper throat can spike to dangerously high temps!
But of course, all that pales to the danger of inflatable fun.
The professor in charge of the study,Andrew Grundstein, reminded us that:"Heat illnesses like heat stroke can be deadly and occur in children participating in sports, left alone in parked cars, and as our study shows, potentially when playing in bounce houses," said Andrew Grundstein, UGA professor of geography and co-author on the study. "Children are more sensitive to heat than adults and parents need to carefully watch their children for signs of overheating when active on hot and humid days. Signs there is a problem may include fatigue, nausea, vomiting, dizziness, and flushed, moist skin."
In other words, parents must scrutinize their children for signs that don't seem that hard to notice — or recover from. (E.g., "moist skin.")
Amazingly, this skin-moistening scourge had never been studied till just now:
"This research is a preliminary look at something that no one had really examined in the published literature," said Marshall Shepherd, UGA Athletic Association Distinguished Professor of Geography and Atmospheric Sciences and co-author on the study. "I knew it was a problem when I watched my child in one on a particularly hot day and our early findings confirmed my suspicions. Hopefully it makes parents more aware of something they probably overlooked."
Yes, parents should always be aware of something that no parent ever needed to be aware of till now. So how, exactly, should parents proceed? An abstract of the research suggests that:
Parents and caregivers should be aware of heat related hazards in bounce houses and closely monitor children, adjusting or canceling activities as conditions become more oppressive.
Monitor and cancel.
There you have it. The watchwords of our entire society when it comes to kids: Monitor them as if they are in constant danger from age-old activities, and cancel those activities when children appear flushed or hot.
That way kids can stay cool and still all summer long, as nature intended. – L
.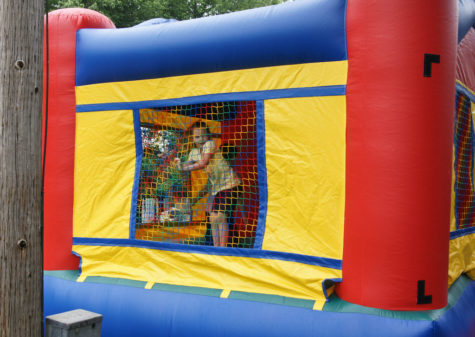 Mommy, help! My skin is growing moist! (Photo credit: Valerie Everett)