Folks — I just got a letter from a reader wondering what Free-Range thing she can do that won't get her shunned by the other parents or cited by some uptight cop. My answer: Do something YOU loved doing as a child that you wish you could let your child do, too.
Let your child make a s'more or walk around the neighborhood or knock on a friend's door or play in the park with a sibling but without you — or go to the movies. You're the parent, so you know that you wouldn't send your 2 year old to be supervised by your 3 year old. Just dig back into the past for a template of normalcy again. From what I've seen, just doing this ONCE reassures both the parent and the child that the activity is not a crazy idea, just fun.
SO — without me making this into a 28-step big deal, send your kids out with the simple caveats of don't go off with anyone, don't cross the street unless you've agreed that that"s okay, and come home at an agreed upon time. (By the time your child is old enough to be outside on her own, I think she probably can tell time, too. Right?)
And then report back here by Monday. Tell us what you did. Inspire the rest of us! And if you don't have a great idea for the first "challenge" make it super simple: Have your kids play on the front lawn/stoop/sidewalk for an hour with them not coming in and you not going out.
If that sounds ridiculously easy, that's because it is. Â – L.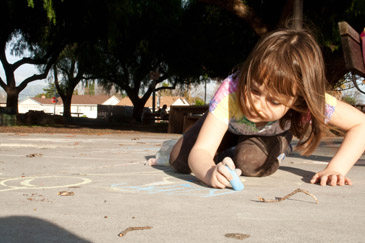 Kyra's sidewalk drawing, photographed by Charlie F.